Amelia Earhart: Style Icon/You Can
Yesterday would have been Amelia Earhart's 115th birthday. My friend Francis posted an appreciation of our beloved AE, which inspired this piece. Let's take a look at the aviatrix's style and see if we can do it justice in a modern way.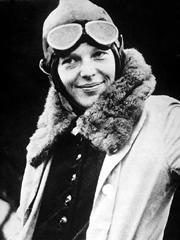 Sometimes I forget that women wearing trousers was once considered very bold behavior.
AllSaints silk tee, Swiss Kriss black jacket, Gap broken in straight khakis, Echo silk sundial scarf.
Topshop faux fur collar, Target cardigan sweater, Tulle khaki cargo coat, Chooka teeny tweed rainboots
Target deco print tunic, Sterling silver safety pin, Steve Madden Jazie oxfords, Zara trousers