Style Icon/You Can: Emmanuelle Alt
Sure, it's easy to be a style icon when you're the Editor in Chief of Vogue Paris. But I still appreciate Emmanuelle Alt's definitive personal style, which doesn't seem to bend much to the trends she's curating on a daily basis. One part rocker, two parts prep, zero parts fuss, Alt makes t-shirts and jeans reign at all the spots where pearls and skirts are expected.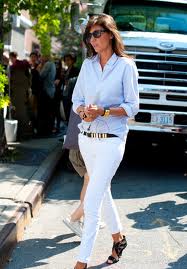 This is so easy I don't even have to break it down for you, but here goes: Jeans or other slim pants, t-shirt or button down shirt, a fitted jacket, and kick ass black boots or shoes. Mix all of those pieces willy nilly (note that she's wearing the same shoes in the first three pictures), but keep comfort a priority. Minimal make-up, and hair always down. Over-the-knee boots with shorts and tights? Optional. But that's cinchy to re-work with jeans and ankle boots.
L to R:
Zara bird's eye black blazer, Forever 21 striped dropped shoulder tee, H&M grey cotton blazer with zips
LnA short sleeve crew neck tee, Topshop Moto white Baxter jeans, American Apparel leather black/patent reversible belt
Envy sigfroi sandals, Nine West black suede Flax pump